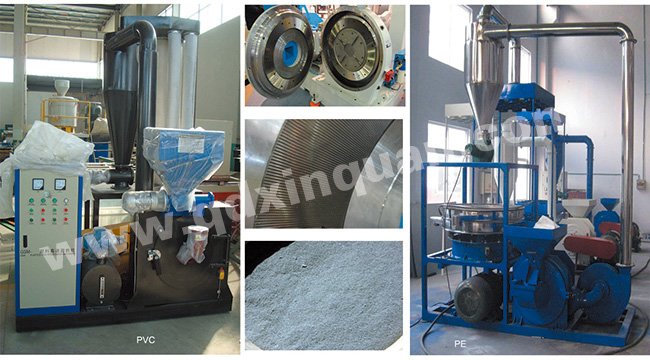 Plastic pulverizer
The plastic pulverizer is used to grind recycled PVC and PE plastics into powder for reprocessing;
The main machine and the overall structure of the pulverizer adopt scientific technology, and the plastic raw materials or pulverized materials with a particle size of 6-10mm are sent to the high-speed grinding chamber through the vibrating feeder to work to form a powder state; the fineness of the powder , particle size distribution, and fluidity can be adjusted by adjusting the gap between the grinding discs.
The whole set of pulverizer is equipped with automatic temperature control, vibrating screen and feeder system; the grinding disc has two types: full circle and split type, which can be customized according to the needs of users.
It has been proved by the practical operation of the professional factory of plastic products that adding 20%-30% of the grinding powder to the processing formula, the chemical and physical properties of the products remain unchanged from those of the new material. Therefore, it is a supporting equipment for plastic products factories to reduce costs and save expenses to solve the accumulation of waste products.